E-Contents:
1. College ERP Portal (For Study materials/Online Exam and other student related activities: www.sccollegednk.in)
In this portal each student can login through his own login id/password provided by the college. After login student can access the study materials uploaded by the teachers for his/her class, can appear at online examination etc. Students need to use this portal for payment of college/University fees and other student related activities.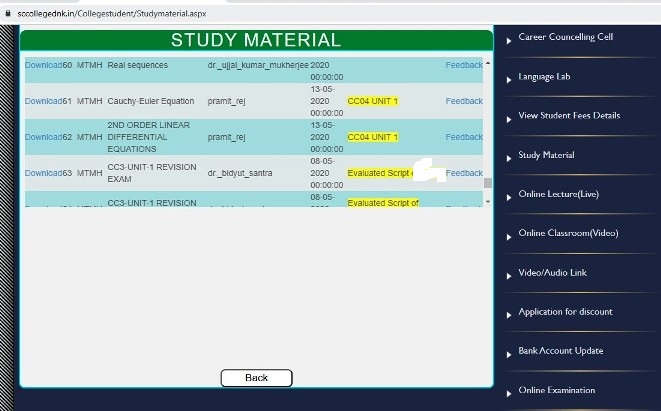 Our College has subscription for Nlist-Inflibnet. Through the website https://nlist.inflibnet.ac.in/students can access 1,64,300+ e-books and 6,000+ e-journals. Students need to contact the library (library@sccollegednk.ac.in) for the id and password for login. They must mention their student id, class, roll number etc. for sending request in this regard.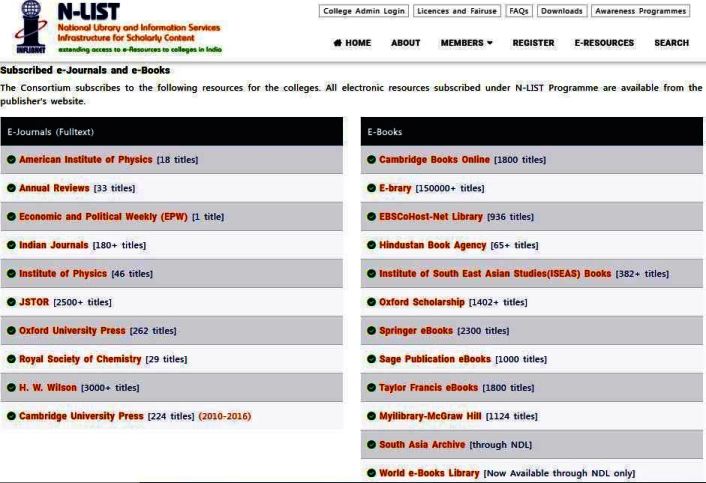 3. National Digital Library of India (for accessing video lecture/study materials/books: https://ndl.iitkgp.ac.in/)
The National Digital Library of India (NDLI) is an all-digital library that stores information about different types of digital contents including books, articles, videos, audios, other educational materials relevant for users from varying educational levels and capabilities. It provides a single-window search facility so that learners can retrieve the right resources with the least effort in minimum time. Teachers often refer and share the link to the students for the relevant contents.
Here one can find copyright free rare books which are under the custody of various libraries of West Bengal, India. This repository is initiated with the assistance of Mass Education Extension and Library Services Department, Government of West Bengal and Center for Development of Advanced Computing, under the Ministry of Information &Technology, Government of India. It has started its journey on 12th August 2010. The aim of this digital repository is to provide free service to academics, researchers, and students. It is a digital service that collects, preserves, and distributes rare digital material.The collection covers most of the subjects.
5. MIT Open Course Ware(For accessing topic wise lecture notes/video lectures: https://ocw.mit.edu/)
MIT is a free and open publication of material from thousands of MIT (Massachusetts Institute of Technology, USA)courses, covering the entire MIT curriculum. That's every MIT department and degree program, and ranging from the introductory to the most advanced graduate level. Students can search for a study material or video lecture topic wise. It covers almost all relevant subjects. Students are encouraged to explore the website for their study.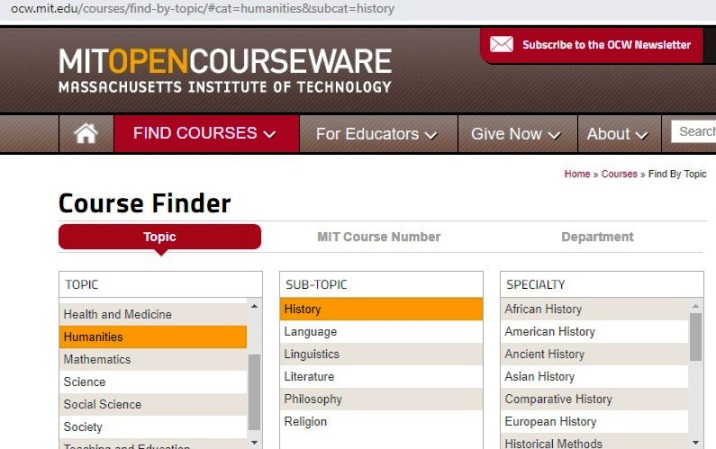 6. SWAYAM(for online course contents/credit based courses: https://swayam.gov.in/ )
SWAYAM is a programme initiated by Government of India and designed to achieve the three cardinal principles of Education Policy viz., access, equity and quality. The objective of this effort is to take the best teaching learning resources to all, including the most disadvantaged. Through this website student can learn subject/topic related to the curriculum as well as subject of interest. Course duration varies from 8 weeks to 24 weeks. Here one can gets course material, assignment, video lecture etc.